Sunreef Catamaran 60 Loft Luxury Yacht
Discover the breathtaking beauty of paradise in unparalleled luxury, style, and comfort.
Indulge in an unparalleled sea travel experience with the Sunreef Catamaran 60 Loft Yacht. This vessel redefines luxury and comfort, making it the ultimate choice for exclusive getaways, chartering, and transoceanic adventures. Your dream island-hopping destinations and private resort paradises in the Philippines await. Perfectly suited for cruising the stunning Palawan islands, including El Nido, Coron, and Puerto Princesa, this yacht provides you with exclusive access to private islands and the chance to explore natural wonders like Linapacan, Bacuit Bay, and Culion Island. Moreover, it can seamlessly transport you to popular destinations such as Batangas, Boracay, and the prestigious Amanpulo resort. Experience an array of thrilling water activities on each island with our well-equipped water toys and equipment on board. The interior boasts three splendid cabins: one main bedroom and two guest rooms, each featuring its own bathroom and toilet with invigorating warm water. Relax in the spacious lounging and dining areas after an exhilarating day of adventure. Ascend to the roof deck for a panoramic 360-degree view of the surrounding nature and relish the refreshing breeze and you'll also find a trampoline net where you can bask in the sun while listening to your favorite tunes on our top-notch entertainment sound system. To cap off a day brimming with sea activities, unwind in the comfortable lounge area and treat yourself to a delectable meal expertly prepared by your personal onboard chef. Sail, Luxuriously!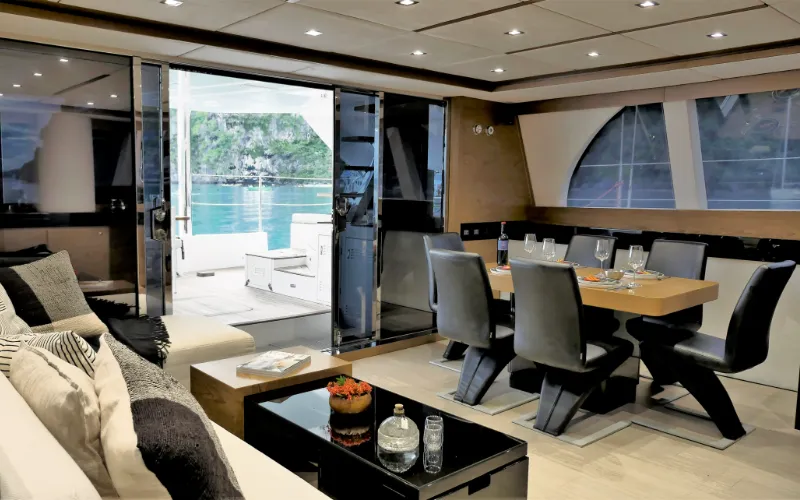 A spacious lounge area or living room that's the epitome of luxury! This expansive and plush suite doubles as a dining area, where the chef prepares your meal. It's also a haven for relaxation after a day of thrilling water activities, or the perfect setting to engage in meaningful conversations with your family and friends.
Three luxurious cabins await a primary suite and two guest chambers, each furnished with a queen-sized bed for restful slumber after a long day. Each cabin also boasts its own ensuite bathroom equipped with rejuvenating warm water.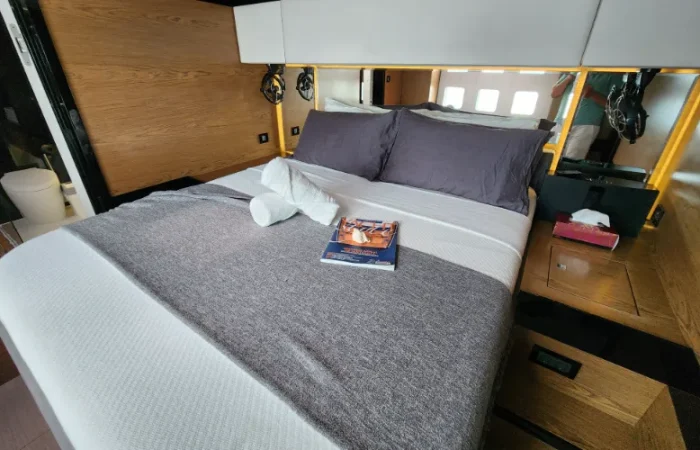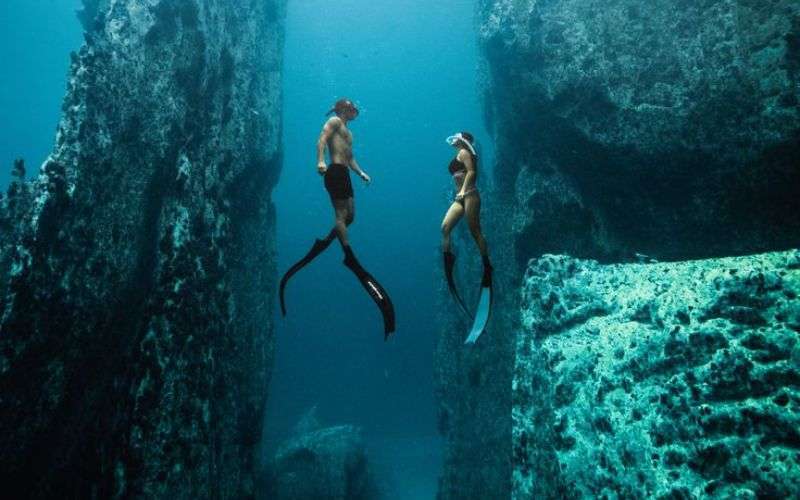 COMPLETE WATER EQUIPMENTS
From snorkeling gear to paddle boating, kayaking, scuba diving, and fishing, what more could you desire? There's a plethora of activities to enjoy and discover within the crystal-clear turquoise waters. Dive alongside Palawan's fish and turtles, marvel at the beautiful corals, and witness the awe-inspiring wonders of nature.
PROFESSIONAL CHEF ON BOARD
A seasoned yacht chef is poised to craft delectable celebratory dishes from your preferred cuisine, adding a delectable culinary finale to your exhilarating journey that will leave you both fully satisfied and yearning for more!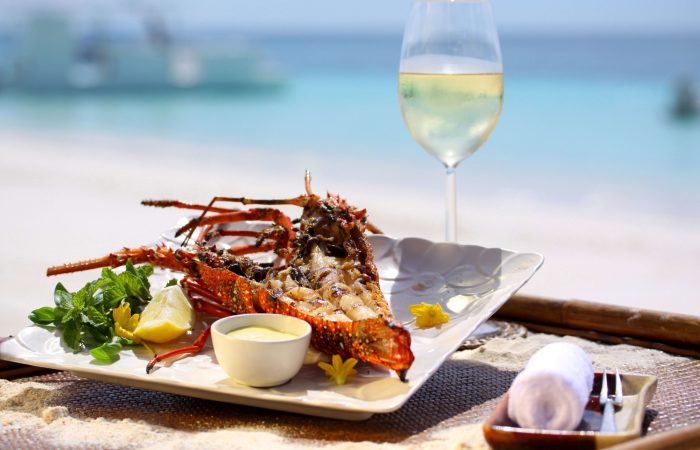 𝐑𝐚𝐭𝐞 | 𝐏𝐫𝐢𝐜𝐞:
• Php 110,000 - a maximum of fifteen (15) individuals. On board on a 10-hour cruise through the enchanting islands of Bacuit Bay, El Nido. Experience unparalleled exclusivity and elegance in prime destinations, away from the crowds. Dive deeper into private islands, boasting pristine white sandy beaches, azure crystal-clear waters, and a plethora of underwater adventures.
• USD 4,000 per day – a maximum of six (6) individuals. A 5 days and 4 nights of an unmatched boating experience to your dream island-hopping destinations and private resort paradises
𝐎𝐩𝐭𝐢𝐨𝐧𝐚𝐥/𝐀𝐝𝐝-𝐨𝐧𝐬:
You can choose between Chinese, Japanese, or Fusion cuisine for breakfast and lunch/dinner with the prices of:
• Breakfast - 1,000php/person
• Lunch/Dinner - 1,500php/person
𝐑𝐞𝐦𝐢𝐧𝐝𝐞𝐫𝐬:
1. Allowed footwear: slippers and aqua shoes. Heels or rubber shoes are not allowed
2. Swimming attire and comfortable clothes
3. Feel free to bring snacks or liquor; we don't charge corkage fees.
4. Pet is not allowed
5. The itinerary is subject to change based on the client's preferences and the weather conditions.
Discover Luxury Tour Packages
Experience unmatched privacy and comfort on a 10-hour luxury cruise around the islands and shores of El Nido, Palawan. Embrace sun-drenched adventures, whether you're enjoying a group outing with friends and family or sharing a romantic day with a special someone.
Exclusive rental of the yacht for 10 hours
{{ reviewsTotal }}
{{ options.labels.singularReviewCountLabel }}
{{ reviewsTotal }}
{{ options.labels.pluralReviewCountLabel }}
Magallanes Brgy, Makati City, PH